Gestión de Media
Marketing Digital y Profesionalización: Retos y Desafíos de Industria
Martes, 14 de Junio de 2022 de 16:00 a 17:00 hrs IAB México
Descripción:
La industria del marketing digital y su importancia en la economía crece año con año, lo que también aumenta la necesidad de contar con talentos profesionales cada vez más específicos, con una serie de skills y capacidades adaptables, y que respondan a las necesidades y objetivos siempre cambiantes de la industria digital.

En esta mesa de debate, IAB México reune a tres destacados especialistas en marketing digital (Diane Pons, Mario Flores y Jorge Fuentes) para dialogar y debatir los retos y oportunidades en materia de formación de talento, los logros alcanzados y los pendientes a resolver en el corto plazo, contemplando las perspectivas de marcas, negocios y anunciantes en un entorno digital.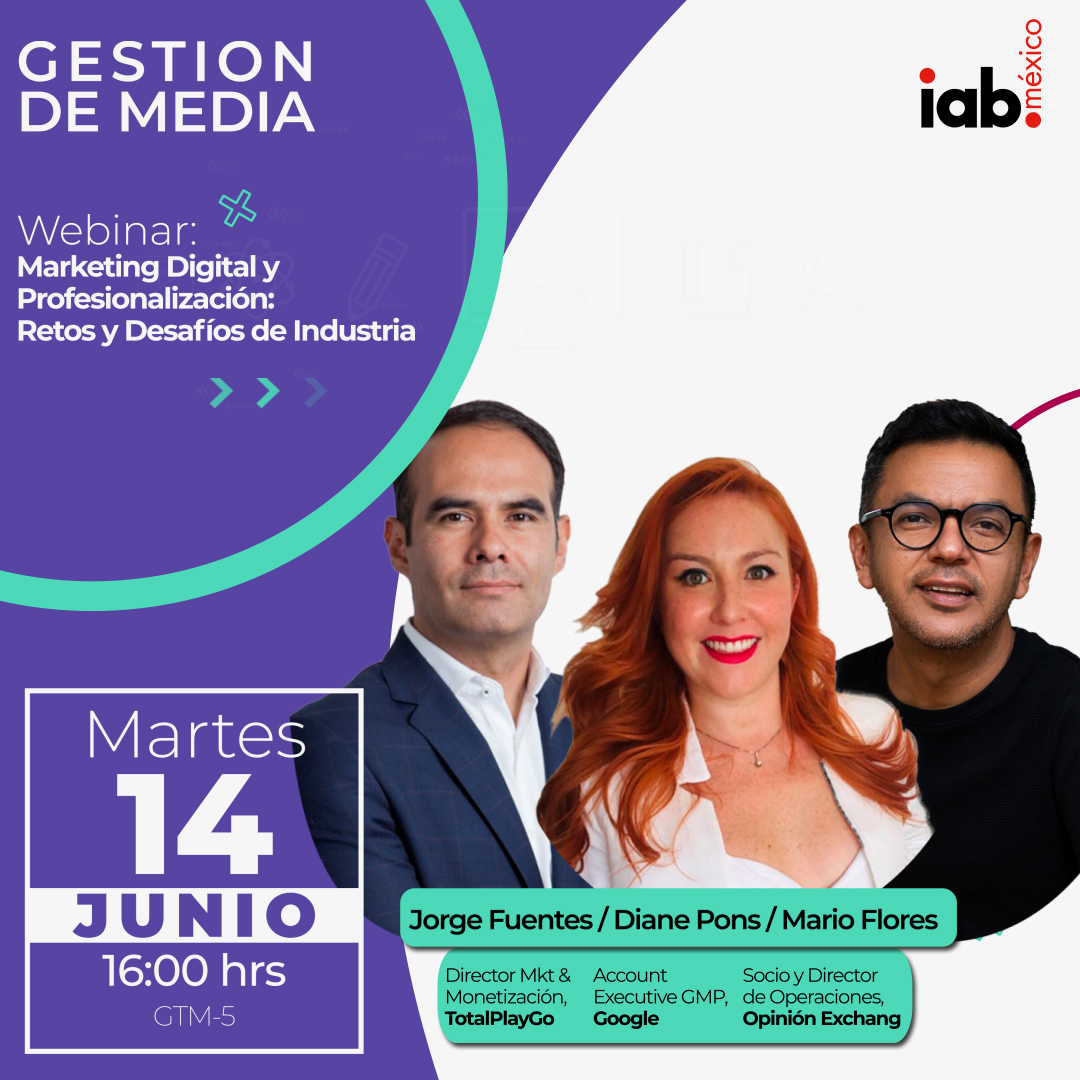 Diane Pons
Licenciatura en Economía en ITESM.
PSL en Université Paris Dauphine.
Viceprecidenta del Comité de Educación.
Actualmente labora en Google como Account Executive GMP.

Fue Account Executive en Google, Digital Business Cosultant en Media Monks, Directora en Data & Business Intelligence y TV Azteca, Directora en Marketing Analytics and Digital Strategies y Consultora de métricas, analítica web en The Cocktail y Web Analytics Team Leader en Extendo Company.
Jorge Fuentes
Lic. Marketing.
Diplomado en Marketing Interactivo.

Proyectos educativos actuales:
-IAB México: Presidente del comité de educación.
IAB México: Instructor en diplomados de marketing interactivo.
-Universidad Anáhuac Veracruz: Presidente Consejo Consultivo Mercadotecnia.

Experiencia profesional:
Actual Total play: Director de Mercadotecnua y monetización totalplayGo
Hasbro: Integrated Media & E-com Sr. Marketing Manager
Kantar: Media Effectiveness Director
TV Azteca: Digital Analysis Director
Comscore, Havas Media, OMD, Pauta Creativa.
Mario Flores
Maestría en Dirección Comercial y Marketing.
Maestría en Marketing Digital Online en Fundesem Business School en Alicante España.

Más de 15 años de experiencia en el mundo digital: Residencia, Grupo W y Novus Media, ocupando distintos puestos como: Director de Social Media, Project Manager y Social Business Intelligence, coordinando marcas de diferentes industrias con presencia nacional e internacional, así como estrategias de personal branding para figuras públicas importantes dentro del entorno digital en México.

Actualmente Socio y Director de Operaciones en Opinion Exchang así como de Sesenta ideas, Speaker en IAB Conecta 2018 en el training sessions de Content Marketing. desde hace 6 años. Participación como catedrático e Instructor en cursos inCompany.